A reflection on the surprising places of creation and flourishing in Greater London
Eden Imperative - with Tea, Cakes...and Cath Kidston
by James Mercer
Forest School Harrow is an outdoor education partnership established between All Saints', Harrow Weald and Harrow Council. Its purpose is to engage with young people in a safe but challenging outdoor setting, encouraging them to respect and care for each other and take responsibility for their local environment. A pond has recently been constructed to support the outdoor curriculum, with generous support from the local community.
---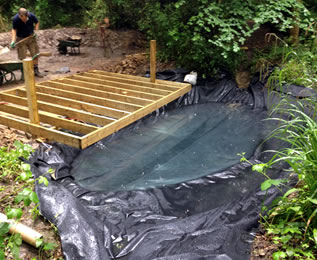 The improbable crowd gathered. A miscellany of children, dignitaries, teachers, Asian entrepreneurs, (predominantly) Jewish businessmen, elderly ladies, church folk and the generally curious. All drawn to an unremarkable patch of tangly Middlesex secondary woodland, once a Vicarage garden, largely hidden from public view behind the Pre-Raphaelite silhouette of an Oxford Movement inspired church. Shielded from the insistent incessant susurrus of the fringe arterial road.
It was the water that drew them there. The thick, cloying London clay, a bedrock made dynamic by unpredictable notorious intermittent springs, had been scraped away. The newly shaped pond looked murkily shiny and somewhat incongruous with its clean-bright wheel chair accommodating decking and spiky plants emerging from washed gravel. Temporary Chelsea flower-show chic in the suburban sticks.
Within a season the created habitat will spawn diversity. Even as the intrigued crowd assembled, a shy Speckled Wood settled momentarily on the in-planted Yellow Flag. Young people - and especially those at risk form multiple social and physical disadvantage - will have opportunities to probe this habitat in search of the peculiar spontaneous life forms that will emerge from the genesis ingredients of water, butyl and clay.
This is what drew the deliberate diverse crowd. Newly enabled biodiversity, shaped holistically from within the existing ecosystem for the good of the community. Imagination, good will, technical expertise and generosity harnessed and employed. Stewardship realised - albeit covertly.
And then, drawn by the allure of wispy-blue woodsmoke, tea, cakes, logs and Harrow imperative Cath Kidston crockery, the crowd migrated and reformed, enjoying the odd juxtaposition of aldermen, business men, business women, conservation volunteers, teachers, church folk and young people in conversation in the fleeting late afternoon sunshine, unconvincingly penetrating the canopy of a newly purposed scrap of Middlesex woodland.
---
At the Dedication of the Forest School Pond:
Loving God,
Whose creative power includes the wild and the natural places.
Help us to acknowledge and embrace our responsibility
As stewards of creation to protect the natural and free places
And to enjoy them and preserve them for future generations.
We praise you for their diversity and exuberance
And for their special place in your world. Amen.1
Creator and Creative God,
Made known to us in and through your Son, Jesus Christ, our Lord
We ask for your blessing and protection over all who work, walk and learn in this place.
We give thanks for this water and the life it will support.
We pray for the young people who will visit and explore this place.
May they develop a sense of responsibility and care for this place
And the communities of which they are a part.
May their self esteem be enhanced.
May they know themselves to be cared for and valued in this place. Amen.
Footnote
1 Adapted from Seasonal Worship from the Countryside; The Staffordshire Seven; SPCK 2003
---
James Mercer is Vicar of All Saints', Harrow Weald and co-ordinator of Forest School Harrow

James Mercer is the Associate Minister within the Benefice of St Aldhelm, Purbeck.