Let General Synod know that you want them to vote Yes2WomenBishops
Yes2WomenBishops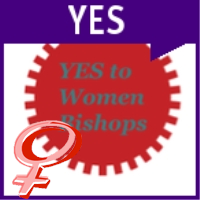 Friends, we would like to let you know that Fulcrum is fully backing the Yes2WomenBishops Campaign.
We believe that most people in the Church of England would like to see women as bishops and think that the current legislation is appropriate for the flourishing of all within the Church of England.
This campaign is running in order to let as many people as possible have a voice in General Synod, to let GS know that they should vote 'yes' to this legislation in November, in order to best represent their parishes.
On the website you can send your message to your Synod Representative and let them know that you want them to vote 'Yes' to women bishops.
Once you have done this, please let others know and spread the message as widely as you can.
Thank You!