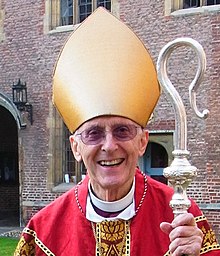 Following the sad news of the death of Bishop Simon Barrington-Ward on Holy Saturday 2020, formerly the Bishop of Coventry, we are pleased to publish a poem in memoriam, written by Sarah Cawdell.
"Lord Jesus Christ"
Berlin 1954
Post war community is found where
trauma is faced, sin acknowledged,
forgiveness found,
poetry and friendship,
love, joy and laughter.
Roots of relationship are sent deep down in fertile soil.
"Son of the living God"
Ibadan 1960 - 63
The Centre cannot hold.
Look to the edges for your new found growth
see how the Spirit moves upon him there.
He understands that Christ is found in all
and all are called to Christ's transforming love.
Will church conform? Or halt the move of God.
"Have mercy on me"
Magdalene, Cambridge 1963 – 69
He turns to home, returning where he learnt
now learning's rooted deep.
Patterns of thought, friends made,
questioning, exploring,
faith underpinning all.
The love of God.
"A sinner"
CMS Crowther Hall 1969 - 74
Love, being loved, accepting who we are
and venturing out, beyond the bounds of love.
Taking the battle where injustice lives,
enable others in their cross-like walk,
listen to the edge, the margins keep the faith.
"Lord Jesus Christ"
CMS General Secretary 1975 – 1985
He takes his place, follows the prophet priest,
enthused for mission, sent from all to all.
He speaks the cross, the resurrection power,
gives light to light and so increases peace.
"Son of the Living God"
Bishop of Coventry 1985 - 97
Called then to Coventry
where reconciling love builds bridges.
From Berlin, he works for unity,
he nurtures priests, shares cures of souls with all,
holds all in prayer.
"Have mercy on us"
Retirement 1997 - 2020
In love he works, writing,
with others praying, speaking still
of love.
The cross his pathway, suffering with Christ.
Enabling other's prayers,
forgetting still,
living in the memory of God.
Photo: https://commons.wikimedia.org/wiki/File:Simon_Barrington-Ward_2011.jpg
Sarah Cawdell lives in Shropshire with her husband and three teenage children.